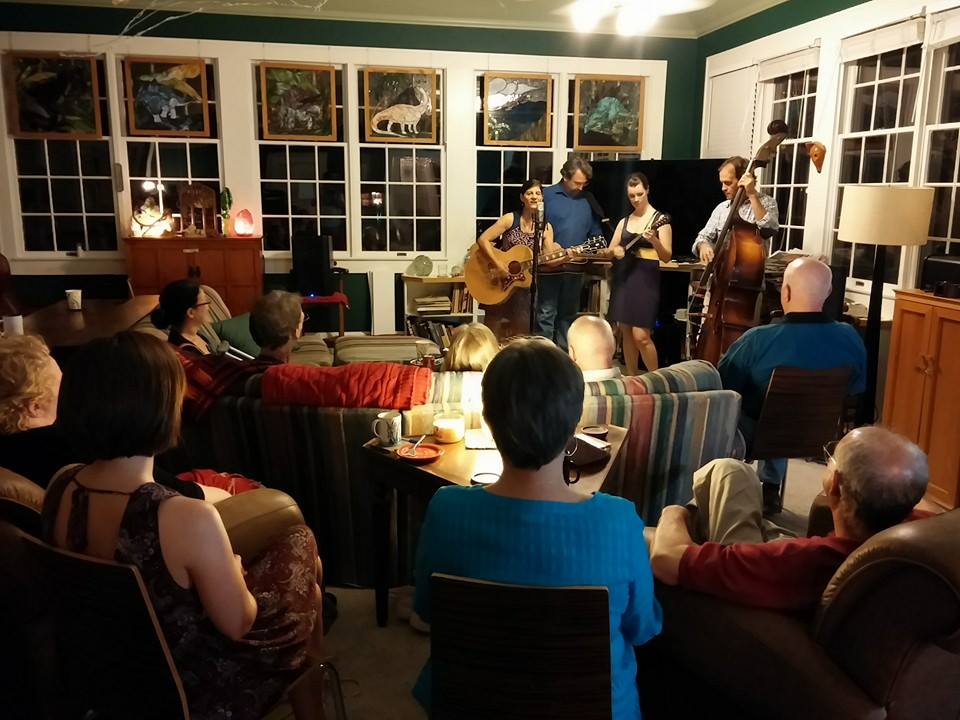 A Brief Guide to House Concerts.
We love house concerts. What's not to love? Part concert, part community gathering. As musicians, we love to play for a gathering of attentive, appreciative people who are there to share the experience of our music. We thought we'd create this page as a little guide for anyone who might be considering hosting us.
There are also a lot of resources on the internet– just try googling "house concerts" and you'll see. For example: "Concerts in your home."   Much of this information has been borrowed from this useful site.
What is a house concert? A house concert is a musical event hosted in somebody's living room, back yard, or, in some cases, a space like a community center that happens to be available to the host. That's the main thing: they are hosted events that take place in a space that is not ordinarily a public venue. Typically, the host sends out an invitation to their network of friends and acquaintances, asks for an RSVP to insure that it doesn't get too big for the available space, and asks for a donation to cover costs (and pay the musicians).
There are two main things that distinguish house concerts from other kinds of venues: first, they are hosted events, and, second, they happen in places that are not open to the public. Some are completely private events, not advertised at all and by invitation only, and some are a little more open to those who, for example, might hear about it through their local folk club newsletter or from Facebook.
Size. House concerts range in scale from 15-20 people in the host's living room to 50 people in the common room of the condominium or, for example, 100 people on folding chairs in the back yard. Decide on the number of people that can be accommodated in the space, and how many people you are comfortable inviting into your home, and then set the limit on the number of people accordingly.
Don't be afraid to tell people that the concert is sold out. All of the on-line guides to house concerts recommend asking for an RSVP so that you know how many people will be there. Remember that these are not events that are open to the general public just dropping in.
Day and Time. House concerts can take place any day of the week, although we find that it is easier to get a bigger crowd on a Friday or Saturday than on a weekday. Hosts are generally a good judge of what works for their particular circles of friends. If, however, a host hopes to draw a larger crowd, we'd recommend a weekend night.
It's a good idea to set the starting time so that there is at least 30 minutes or so for socializing, getting drinks, and settling in. If there is a potluck dinner, the host should allow appropriate time for people to eat.
We would normally play two sets of about 45-60 minutes each, with a 20-30 minute break in between that allows people to stretch their legs, get a drink, talk with us, and make a trip to the bathroom (not to mention taking a look at our CDs).
Getting the word out. In general, house concerts are successful because the host invites friends, co-workers, and acquaintances interested in live music. The best way to drum up interest in a house concert is by word of mouth, circulated through the host's social networks.
Some sources suggest that one can expect a 20-25% response: for example, 100 invitations would be expected to yield 20-25 acceptances. We can't vouch for these numbers, but this seems like a good place to start. If you don't have 100 people you know to invite, encourage your friends to share the invitation with people they think might be interested (reminding them that they need to RSVP to you, of course, in order to reserve a seat). Facebook and other social networking tools make it easy to do this these days.
We can help a host promote a house concert, both by providing promotional materials, and by circulating the invitation in our own networks. We'll only announce the concert to our fans, however, with the permission of the host. Some hosts prefer to keep their house concerts more private and strictly to their immediate circle of friends. Remember that even if the invitation is widely circulated, the host still should be in control of how many people are coming.
Don't forget to point people to our web page, our Facebook page, or to our Reverbnation page, where they can listen to some of our music and find out more about us.
It's important to make sure, in the promotional process, that your guests understand that this will be a house concert — and not just a house party that has some music going on in the background. That means they need to arrive more or less on time, and expect to listen to music.
Food. Some hosts like to provide snacks and beverages, while others encourage people to "BYOB." Some hosts will combine the house concert with a full potluck dinner, which adds another dimension to the event. It is entirely up to the host to decide what kind of event they want to create. 
Sound. If the group is small and the space has great acoustics, it is certainly possible play unplugged. After all, we rehearse that way-usually in a circle in the kitchen. However, we find that even in a normal living room, especially when it is filled with people, it can help to have a little sound reinforcement so that the singers don't have to strain to be heard over the instruments. We can take care of this part. We would generally want to arrive at least an hour before any of the guests in order to scope out the room, set up any necessary equipment and do a sound check.
Stage. It isn't necessary to have a stage or any sort of fancy lighting, but we do need a little space to perform. Please keep in mind that there are five of us, with instruments. We have played in some small areas, but generally we like to have an area that is 8-10 feet across and 6-8 feet deep.
Whatever the space is available, we like to set up an area that is recognizable as the performance space. Sometimes, for example, we'll put down our own rug to define the "stage" area. We find that this helps to create the right atmosphere for presenting our music.
The money. Typically the host collects a suggested donation from the guests (either at the door or during the break). In our experience, the suggested amount ranges from $10 to $20 per person. Some hosts take a percentage to cover expenses (say, 10%), but generally the money in the donation jar goes to the musicians.
We are generally comfortable letting the host decide on an amount they are comfortable asking from their guests. We don't require a guaranteed minimum, but would ask that hosts consider the "opportunity costs" for us if we give up a prime gig night (like a Saturday) for a house concert with fewer than 15 people.
We know this part can get a little awkward. A general suggestion is to be explicit about the 'suggested donation' in the invitation, so that the guests understand that the expectation is a little more definite than just "passing the hat." Some hosts like to put a basket at the door for the money, rather than having to work the door as if they were running a night club. (If somebody really can't afford the donation, we would never begrudge them an evening of music.)
Merchandise. Like most independent musicians, one of the ways we bring in enough money to support our music is by selling CDs, t-shirts, stickers, etc. In addition to the "stage" area, we ask that there be a space for a small display of such things.